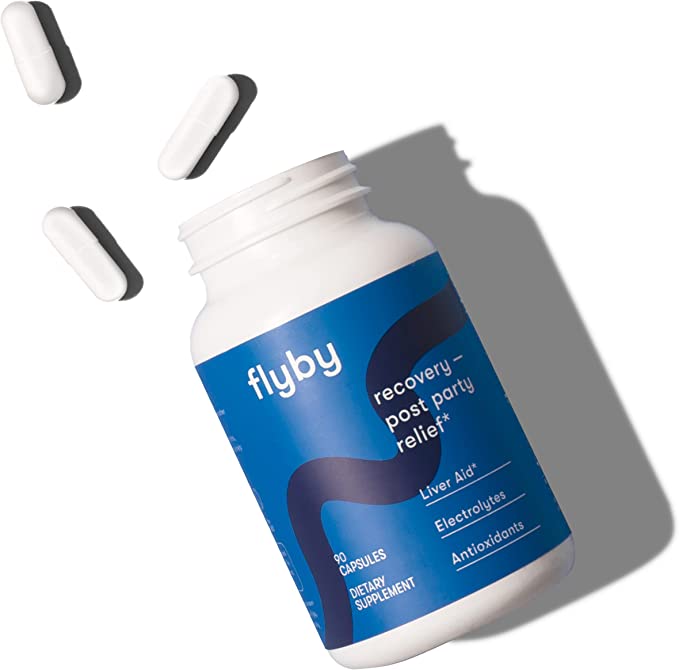 $29.95
About this item
[We Have you Covered- Cheers! ] Flyby Recovery Hangover Prevention Supplement is a an anti hangover pill designed to replenish vital nutrients and support liver function so you can party smart with no regrets. It harnesses the best-known ingredients of recent science to help ease your day after a big night out on the town! Our Products are both Pre hangover pills and post hangover pills so we have you covered completely. A Great add-on to any hangover kit.
[Rapid Hydration Option] Full of Essential electrolytes, Flyby works quickly to prevent dehydration so you can feel better faster. These hydration tablets act as a morning recovery cure so you can get back to your life without pounding headaches. One of the top morning recovery DHM products on the market, Flyby has you covered with our flyby hangover pills 30 count & 90count. Post Party Hangover Relief has never been so easy Flyby's pills for hangover, or a hangover patches replacement.
[ We have your Hangover Support Covered ] Essential nutrients can be depleted from your body after just one night out. Luckily, our recovery pills hangover supplement fix that by providing [High Quality Ingredients] by using the highest purity of Dihydromyricetin [DHM], Milk Thistle, Chlorophyll, Vitamin B, Vitamin C, A detox blend that replenishes what's missing after you drink alcohol. Our Fly by hangover Capsules will be your favorite anti hangover pills so you won't miss a beat.
[ Easy to take & Double the Coverage ] Our hangover capsules are small enough for you to take on the go wherever & whenever you need them! Think of it as a modern-day hangover cure dhm. (3) Small Soft Gel capsules pre hang over drinking party & 3 after to get you going the next morning. Flyby will be your anytime you drink vitamin. Please note Exposure to Moister causes hangover pills to oxidize, Our Customer service team is here to answer any questions and provide as much data as needed.
[ We bring the Party ] Flyby Recovery hang over pill is a leader in Post-Party hang over pills. Proof in our products ability to help you with all your drinking needs is in our reviews from over 100k satisfied customers. As one of the leading & first to market, Flyby has been voted numerous times as the Best Hangover Pills , Hangover Kit Items, Party Pills Hangover.