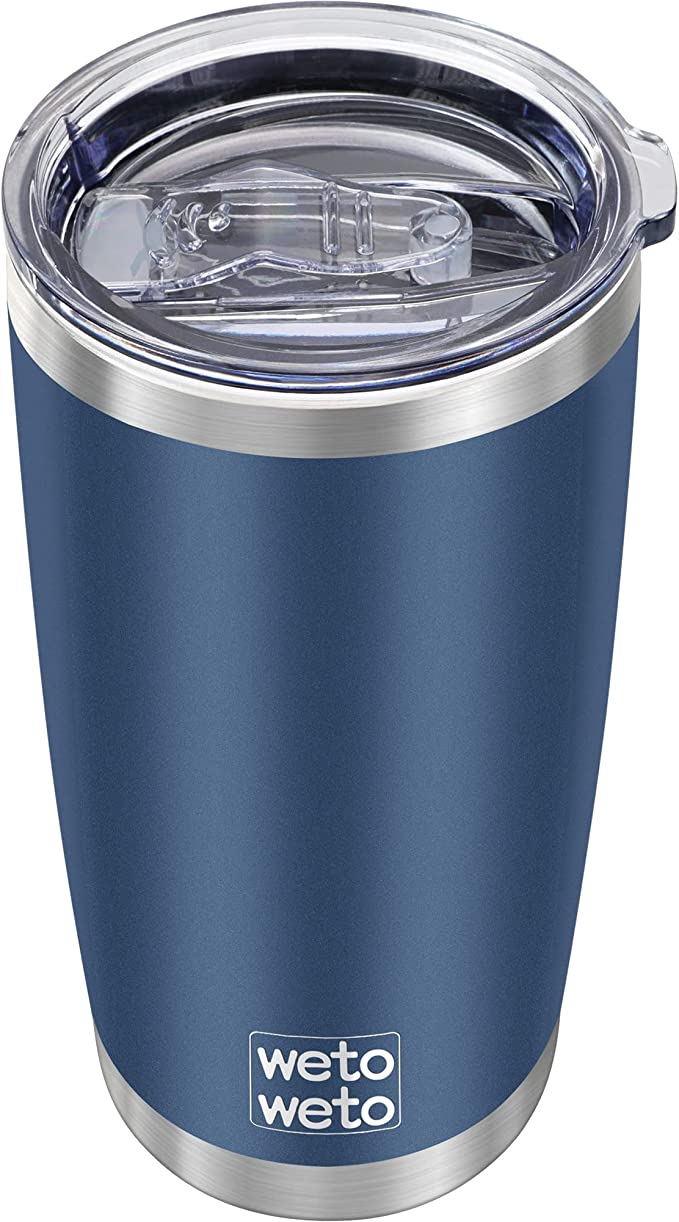 $12.99
About this item
[ 𝐃𝐨𝐮𝐛𝐥𝐞-𝐖𝐚𝐥𝐥𝐞𝐝 𝐕𝐚𝐜𝐮𝐮𝐦 𝐈𝐧𝐬𝐮𝐥𝐚𝐭𝐞𝐝 𝐂𝐨𝐟𝐟𝐞𝐞 𝐓𝐮𝐦𝐛𝐥𝐞𝐫 ]: Wetoweto 20oz Coffee Tumbler Mug is with Double-Walled vacuum technology which can keep coffee warm for 6+ hours, beverages cold for 12+ hours.You can enjoy your favorite drink for a long time,it's so great!
[ 𝐁𝐏𝐀 𝐅𝐫𝐞𝐞 𝐚𝐧𝐝 𝐏𝐫𝐞𝐦𝐢𝐮𝐦 𝐒𝐭𝐚𝐢𝐧𝐥𝐞𝐬𝐬 𝐒𝐭𝐞𝐞𝐥 ]: Stainless Steel Tumbler Cups are made of Food-Grade 304 18/8 stainless steel and the lid is made of BPA-Free materials. Which is non-toxic and healthy. The interior is electropolished. The outer layer is coated with anti-sweat powder to keep your tumbler dry and clean.
[ 𝟐𝟎𝐨𝐳 𝐂𝐨𝐥𝐨𝐫 𝐓𝐮𝐦𝐛𝐥𝐞𝐫 ]: Each thermal cup has a variety of options. Different combinations to experience different effects, free to follow your heart. The surface of the thermal coffee mug is polished and powder coated, and the mug has a better texture. There is also a sweat-proof design, which is better for hand grip. In addition, our 20oz thermal mug is suitable for most car cup holders, and you can use it very comfortably.
[ 𝐃𝐢𝐬𝐡𝐰𝐚𝐬𝐡𝐞𝐫 𝐒𝐚𝐟𝐞 𝐚𝐧𝐝 𝐖𝐨𝐫𝐫𝐲-𝐟𝐫𝐞𝐞 𝐂𝐥𝐞𝐚𝐧𝐢𝐧𝐠 ]: The coffee travel mug are easy to hand wash or wash great in the dishwasher. So convenient, no need to worry about cleaning. The insulated tumblers are suitable for many occasions, can be used for travel, party, garden, beach. What's more is the high quality coffee mug which can be used as Christmas, Thanksgiving, Father's Day, Mother's Day gift for women or parents.
[ 𝐏𝐞𝐫𝐟𝐞𝐜𝐭 𝐟𝐨𝐫 𝐂𝐚𝐫 𝐂𝐮𝐩 𝐇𝐨𝐥𝐝𝐞𝐫𝐬 ]: Carefully designed travel tumbler fits most car cup holders, large capacity coffee mug is perfect for your journey and travels around the world with you. Feel free to pick up the tumbler and hold it comfortably in your hand, it will not affect your driving, the best partner for your journey.