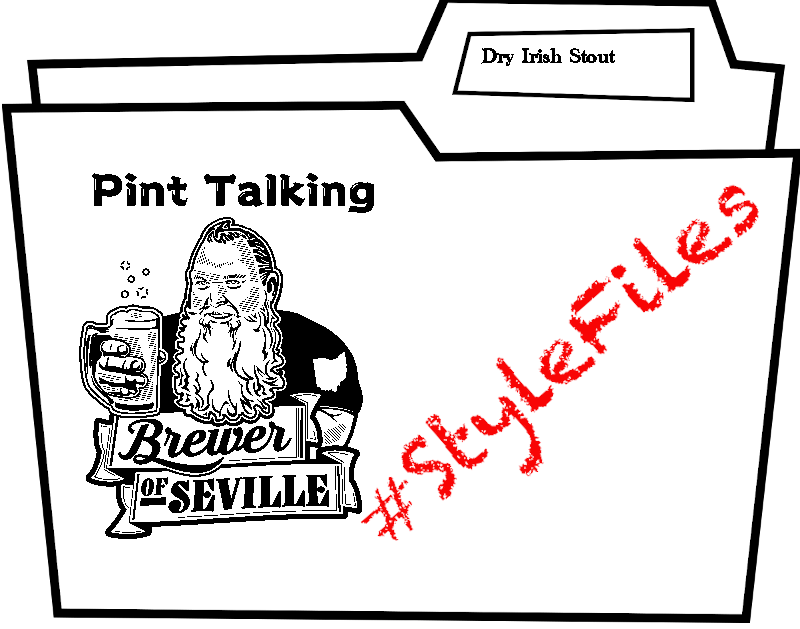 This week as Bob and I continue our month of beers from the UK we take on the most famous category, well at least on St. Patrick's Day, the Dry Irish Stout. A beer that is often misunderstood and completely miscategorized by the novice beer drinker. Contrary to many people's beliefs this beer is not thick, chewy, and sweet. Instead the dry Irish stout presents a light to medium body and finishes very dry. So, grab a beer, sit back and enjoy our Hijinx as we unravel the amazing Dry Irish Stout. Style examples:
Murphy's Irish Stout
North Coast Brewing Old #38 Stout
Pizza Port Seaside Stout
ABV: 3.8-5.0%
IBUs: 25-45
Color: 25-40
Our sample beer for the week: Guinness Draught 4.2% 45 IBU Beer as described by brewer: Swirling clouds tumble as the storm begins to calm. Settle. Breathe in the moment, then break through the smooth, light head to the bittersweet reward.
Unmistakably GUINNESS, from the first velvet sip to the last, lingering drop. And every deep-dark satisfying mouthful in between.
Pure beauty. Pure GUINNESS.
Guinness Draught is sold in kegs, widget cans, and bottles. The ABV varies from 4.1 to 4.3%.
Guinness Extra Cold is the exact same beer only served through a super cooler at 3.5 °C Support the show by doing your Amazon shopping through our affiliate link. Just click the link here or on my website and do your shopping as you would normally. With every purchase you make using the link the podcast gets a little commission kick back. https://www.amazon.com?&linkCode=ll2&tag=thebrewerof0f-20&linkId=508b80c5f61935cee690c0e883386653&language=en_US&ref_=as_li_ss_tl Please consider becoming a member of the Pint Club by visiting my Patreon page at https://www.patreon.com/PintTalkingPintClub There are four tier levels and when you join the Pint Club you will get an opportunity to win a six pack of Ohio beer that is shipped by Rivalry Brews https://rivalrybrews.com/. You will also get a few coupon codes, a Pint Talking Sticker, and you'll also get the early released ad free version of this show. Don't forget to visit my website at https://www.thebrewerofseville.com/ to catch up on old episodes and visit the newly renovated BOS swag store. I have added several new colors and styles of Tees and Hoodies. Make sure you check out our friends at Wrecking Crew Brew Works on the web at https://www.wreckingcrewbrewworks.com/ and follow them on Facebook at https://www.facebook.com/Wreckingcrewbrewworks and Instagram at https://www.instagram.com/wreckingcrewbrewworks Check out our other sponsors: Join the American Homebrewers Association and get access to hundreds of award-winning recipes as well as countless informative articles. Follow this link and use the code PintTalking for $5 off your membership. https://www.homebrewersassociation.org/support-the-aha/?promo=the-Brewer-of-Seville. Shirts on Tap at https://shirtsontap.com/ and use the code rq7szr For $10 off your first order.
Example Text