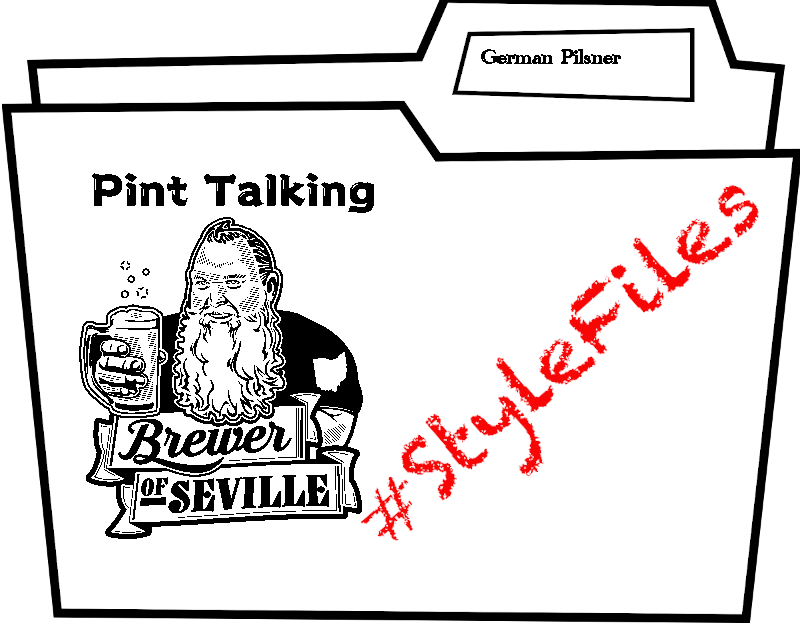 This week Bob and I wrap up our lager kick for now as we discuss the German Pilsner. Quite possibly the most iconic beer style in modern history, the pilsner captured the attention of beer drinkers across the world and inspired a myriad of regional imitations. This lightly colored, exquisitely balanced lager remains one of the most loved beers to enjoy, and one of the most challenging for the brewer to create. Pilsner is characteristically light in color and have a very short finish. The world over, pilsner -style lagers have become the standard beer for many reasons, and American craft brewers have worked hard to put their own unique spin on this classic German beer. A classic German-style pilsner is straw to pale in color with a malty sweetness that can be perceived in aroma and flavor. Perception of hop bitterness is medium to high. Noble-type hop aroma and flavor are moderate and quite obvious. Distinctly different from the Bohemian-style pilsner, this style is lighter in color and body and has a lower perceived hop bitterness.
ABV: 4.4 – 5.2%
IBUs: 22-40
Color: 2-4
ServingTemp: For most lagers and pilsners, 38 degrees is ideally your low point. Anywhere up to the low-to-mid 40s is fair game. "[Pilsners] are more traditionally [served at] 38 degrees, and are probably best suited there.
Serving Pressure: 11-16PSI Examples of this style:
Pauliner – Pils
Wooly Pig– Keller Pils
Lager Heads – Tacklebox Pilsner
Drink representative selection of the week: Maize Valley German Style Pilsner 5.2% ABV and 30 IBU Beer as described by brewer: Brewed with pilsner malts from Dusseldorf Germany accompanied by a touch of carafoam and wheat malts for head retention and foam stability. The malt profile is light, clean and crisp with hints of breadiness while teetnang and perle hops lend a floral and citrusy hop character.
Support the show by doing your Amazon shopping through our affiliate link. Just click the link here or on my website and do your shopping as you would normally. With every purchase you make using the link the podcast gets a little commission kick back. https://www.amazon.com?&linkCode=ll2&tag=thebrewerof0f-20&linkId=508b80c5f61935cee690c0e883386653&language=en_US&ref_=as_li_ss_tl
Please consider becoming a member of the Pint Club by visiting my Patreon page at https://www.patreon.com/PintTalkingPintClub There are four tier levels and when you join the Pint Club you will get an opportunity to win a six pack of Ohio beer that is shipped by Rivalry Brews https://rivalrybrews.com/. You will also get a few coupon codes, a Pint Talking Sticker, and you'll also get the early released ad free version of this show. Don't forget to visit my website at https://www.thebrewerofseville.com/ to catch up on old episodes and visit the newly renovated BOS swag store. I have added several new colors and styles of Tees and Hoodies.
Make sure you check out our friends at Wrecking Crew Brew Works on the web at https://www.wreckingcrewbrewworks.com/ and follow them on Facebook at https://www.facebook.com/Wreckingcrewbrewworks and Instagram at https://www.instagram.com/wreckingcrewbrewworks
Check out our other sponsors:
North East Ohio Craft Brewery News – Check out one of the best sources for craft beer news in Northeast Ohio. You can also find them on Facebook at @ NEOCBN. https://neocraftbrewerynews.com/?fbclid=IwAR1W2i4nKp2fCO0jpQEnZE0ekO8oRYRbK8u6hI16wek8T2CGUvWntZ_FWKo
Join the American Homebrewers Association and get access to hundreds of award-winning recipes as well as countless informative articles.
Follow this link and use the code PintTalking for $5 off your membership. https://www.homebrewersassociation.org/support-the-aha/?promo=the-Brewer-of-Seville.
Shirts on Tap at https://shirtsontap.com/ and use the code rq7szr For $10 off your first order.