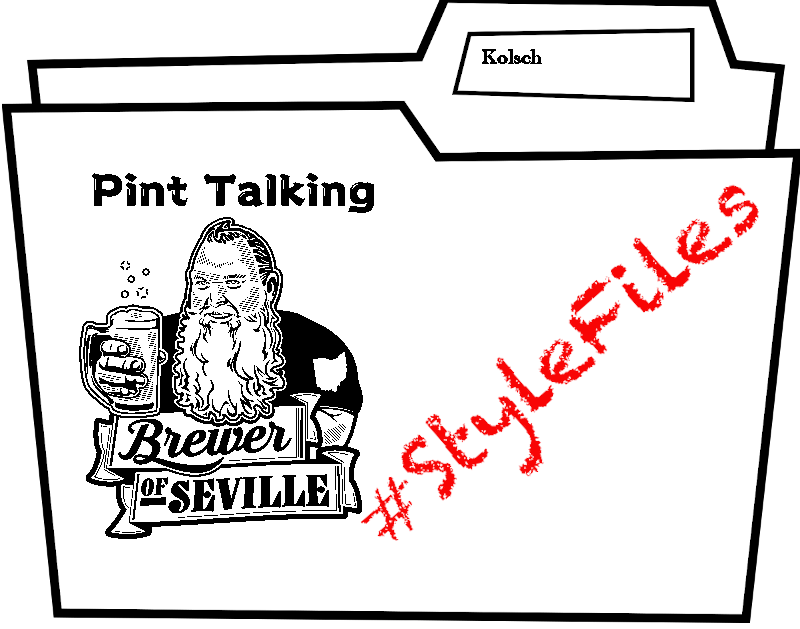 In this episode Bob and I switch to one of the most delicious beer styles in all the world, Kolsch. Kölsch is one of the most strictly defined beer styles in Germany: according to the Konvention, it is a pale, highly attenuated, hoppy, bright (i.e. filtered and not cloudy) top-fermenting beer, and must be brewed according to the Reinheitsgebot. Style examples:
JAFB – Kemp's Kolsch
Saint Arnold Brewing Company – Fancy Lawn Mower Beer
Colner Hofbrau Fruh – Fruh Kolsch


ABV: 4.4 – 5.2% IBUs: 18-30 Color: 3.5 - 5 Serving Temp: 40-45F Serving Pressure: 10-12 PSI Beer Representation: The Brewer of Seville Kolsch and the Gang 5.1% ABV 27 IBUs Beer Description: Fermented low (63F) and under pressure this beer produces a slight breadiness which blends nicely with the floral notes from the Hallertau Mittelfruh hops. At the end the beer dries out slowly to produce a nice crushable summer time lawn mower beer. Beer Representation: Tree House Brewing - Outlier ABV: 4.3% IBUs: N/A Beer Description: Outlier is a Kolsch-style ale brewed to be eminently drinkable yet loaded with nuance, character, and individuality. It pours a glowing translucent yellow color in the glass with a puffy head that sticks around while you enjoy it. We taste a kiss of lemon, earthy noble hops, doughy malts, a hint of pear, gentle minerality, and a pleasant whisper of wheat that sticks around on the finish. Outlier is a beer brewed with tradition in mind, and the idea that nuanced, carefully crafted beers can enhance living in ways that few other beers can. We hope you enjoy it as much as we do. Support the show by doing your Amazon shopping through our affiliate link. Just click the link here or on my website and do your shopping as you would normally. With every purchase you make using the link the podcast gets a little commission kick back. https://www.amazon.com?&linkCode=ll2&tag=thebrewerof0f-20&linkId=508b80c5f61935cee690c0e883386653&language=en_US&ref_=as_li_ss_tl Please consider becoming a member of the Pint Club by visiting my Patreon page at https://www.patreon.com/PintTalkingPintClub There are four tier levels and when you join the Pint Club you will get an opportunity to win a six pack of Ohio beer that is shipped by Rivalry Brews https://rivalrybrews.com/. You will also get a few coupon codes, a Pint Talking Sticker, and you'll also get the early released ad free version of this show. Don't forget to visit my website at https://www.thebrewerofseville.com/ to catch up on old episodes and visit the newly renovated BOS swag store. I have added several new colors and styles of Tees and Hoodies. Make sure you check out our friends at Wrecking Crew Brew Works on the web at https://www.wreckingcrewbrewworks.com/ and follow them on Facebook at https://www.facebook.com/Wreckingcrewbrewworks and Instagram at https://www.instagram.com/wreckingcrewbrewworks Check out our other sponsors: North East Ohio Craft Brewery News – Check out one of the best sources for craft beer news in Northeast Ohio. You can also find them on Facebook at @ NEOCBN. https://neocraftbrewerynews.com/?fbclid=IwAR1W2i4nKp2fCO0jpQEnZE0ekO8oRYRbK8u6hI16wek8T2CGUvWntZ_FWKo Join the American Homebrewers Association and get access to hundreds of award-winning recipes as well as countless informative articles. Follow this link and use the code PintTalking for $5 off your membership. https://www.homebrewersassociation.org/support-the-aha/?promo=the-Brewer-of-Seville. Shirts on Tap at https://shirtsontap.com/ and use the code rq7szr For $10 off your first order.