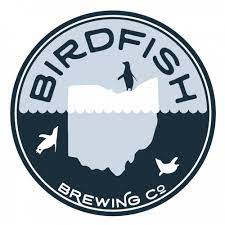 Take a minute to check out this week's sponsor Manscaped.
If you are looking for the best male grooming products on the market, look no further than Manscaped. From the lawnmower 4.0 to the weed whacker nose and ear trimmer Manscaped has you covered. Head over to https://www.manscaped.com/ and use the code PINTTALKING to get 20% off your first order plus free shipping.
This week Bob and I catch up after a few weeks apart, and then we talk about some news stories that occurred while I was on vacation. These stories include:
The sale of Stone Brewing to Sapporo.
The release of Pliny the Younger generates $6.1 million economic impact.
New Jersey's new brewery laws that completely decimate breweries in the Garbage State.
During the interview segment of the show, I sit down with Jared, Greg, and Jason from Birdfish Brewing in Columbiana Ohio. Birdfish is nestled in a small community about 80 miles east of Cleveland. The brewery began in 2015 in smaller location up the street from their current location. Eventually they opened a second larger production facility just down the street in an old car dealership. The pandemic forced them to eliminate their original location, but they continued to thrive in their new digs. The brewery is outfitted with a killer bar, fantastic wood, and brick décor, along with a crap ton of pinball machines and other games. They offer food trucks 7 days a week, and there is never a shortage of great beer. We sampled an Italian Pilsner, Dandelion Hefeweizen, a Chocolate Hazelnut Stout, a NEIPA, and a Triple NEIPA. If you have never been out to Columbiana County, you should certainly make your way there for some delicious beer from Birdfish.
Don't forget to join the Pint Club by visiting my Patreon page at https://www.patreon.com/PintTalkingPintClub There are four tier levels and when you join the Pint Club you will get an opportunity to win a six pack of Ohio beer that is shipped by Rivalry Brews https://rivalrybrews.com/. You will also get a few coupon codes, and once every month you will be invited to a one-hour Q&A session on Facebook in which you can ask them anything you want about craft beer and the industry. In the very near future patrons will gain access to exclusive content that no one else is going to hear.
Make sure you visit Birdfish Brewing on the web at https://birdfishbrew.com to see what they are brewing up. You can also follow them on Facebook and Instagram at @birdfishbrew
Don't forget to visit my website at https://www.thebrewerofseville.com/ to catch up on old episodes and visit the BOS swag store.
Make sure you check out our friends at Wrecking Crew Brew Works on the web at https://www.wreckingcrewbrewworks.com/ and follow them on Facebook at https://www.facebook.com/Wreckingcrewbrewworks and Instagram at https://www.instagram.com/wreckingcrewbrewworks
You can also check out the Medina Brewery Passport on Facebook at https://www.facebook.com/MedinaCountyBreweryPassport/
Blue Cooler - Shop for a high quality cooler at half the price. Go to: https://www.avantlink.com/click.php?tt=cl&merchant_id=fdaa7e76-35bf-4f93-a2f2-0ba0fd3f2dcd&website_id=1b4fdbbe-e41e-40ba-a3b4-8cd9bcb808a9&url=https%3A%2F%2Fbluecoolers.com%2F
Also don't forget to visit Shirts on Tap at https://shirtsontap.com/ and use the code rq7szr For $10 off your first order.