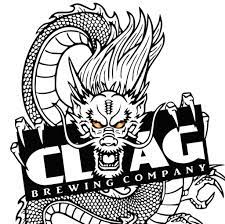 Take a minute to check out this week's sponsor Manscaped. If you are looking for the best male grooming products on the market, look no further than Manscaped. From the lawnmower 4.0 to the weed whacker nose and ear trimmer Manscaped has you covered. Head over to https://www.manscaped.com/ and use the code PINTTALKING to get 20% off your first order plus free shipping.
This week I made the trek to Sandusky, Ohio to visit with Kevin Kowalski at CLAG Brewing. The initial business was Small City Taphouse that served amazing craft beer and Asian cuisine. Six years later the brewery was born. CLAG is known for brewing some amazing big ass stouts and IPAs. During my visit we sampled a crispy Helles, a fantastic Hefe, a danky NEIPA that made my mouth water, and we finished with a 14% cinnamon and vanilla Imperial coffee stout. If you are in the area on August 13th stop in and help them celebrate two years of brewing kick ass liquid.
During the one more segment I drink Saturday Morning Cartoons from our friends at Missing Falls Brewing. This 7% Milkshake NEIPA brewed with 100lbs of Fruity Pebbles is exploding with fruit flavors.
Don't forget to join the Pint Club by visiting my Patreon page at https://www.patreon.com/PintTalkingPintClub There are four tier levels and when you join the Pint Club you will get an opportunity to win a six pack of Ohio beer that is shipped by Rivalry Brews https://rivalrybrews.com/. You will also get a few coupon codes, and once every month you will be invited to a one-hour Q&A session on Facebook in which you can ask them anything you want about craft beer and the industry. In the very near future patrons will gain access to exclusive content that no one else is going to hear.
Make sure you visit CLAG Brewing on the web at https://www.clagbrewingco.com/ to see what they are brewing up. You can also follow them on IG at @clag_brewing and on Facebook @clagbrewing.
Don't forget to visit my website at https://www.thebrewerofseville.com/ to catch up on old episodes and visit the BOS swag store.
Make sure you check out our friends at Wrecking Crew Brew Works on the web at https://www.wreckingcrewbrewworks.com/ and follow them on Facebook at https://www.facebook.com/Wreckingcrewbrewworks and Instagram at https://www.instagram.com/wreckingcrewbrewworks
You can also check out the Medina Brewery Passport on Facebook at https://www.facebook.com/MedinaCountyBreweryPassport/
Blue Cooler - Shop for a high quality cooler at half the price. Go to: https://www.avantlink.com/click.php?tt=cl&merchant_id=fdaa7e76-35bf-4f93-a2f2-0ba0fd3f2dcd&website_id=1b4fdbbe-e41e-40ba-a3b4-8cd9bcb808a9&url=https%3A%2F%2Fbluecoolers.com%2F Also don't forget to visit
Shirts on Tap at https://shirtsontap.com/ and use the code rq7szr For $10 off your first order.