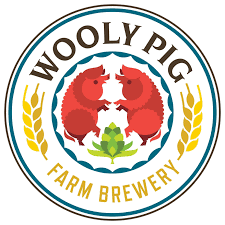 This week I am joined once again by Ryan Primiano from Wrecking Crew Brew Works for the opening of the show. In a new segment of the show called News and Views we tackle the topic of local growth versus national growth. We also discuss the Medina Beer Fest and the Medina beer path tour. The Medina beer fest will take place on April 23rd from 5:30 to 10:30pm at MAD Brewing. The event is sold out, but I will be giving away two tickets on April 16th and in order to get entered complete the following tasks:
Follow and like my page on Facebook at https://www.facebook.com/TheBrewerOfSeville
Follow and like my page on Instagram at https://www.instagram.com/thebrewerofseville/
Email me at info@thebrewerofseville.com and tell me why I should give you these tickets.
In the second half of the show Bob and I travel down to Wooly Pig Farm Brewery in Fresno, Ohio. We spoke with Kevin Ely who is one of the co-owners and head brewer. Kevin talked about how he developed his love of craft beer, and then transforming that love into a brewing degree from UC Davis. Later Kevin began working for Uinta Brewing and while at Uinta he was able to visit Bavaria on several occasions. This sparked his love affair with German Lagers. Wooly Pig Farm Brewery is a unique location in the heart of Ohio. It's full of amazing scenery and not to mention some pretty darn good craft beer. If you ever get an opportunity to make it to Wooly Pig Farm brewery you absolutely have to go.
Make sure you visit Wooly Pig Farm Brewery on the web at https://www.woolypigfarmbrewery.com/ to see what they are brewing up. You can also follow them on Facebook at https://www.facebook.com/woolypigbrewery and on Instagram at https://www.instagram.com/woolypigfarmbrewery/
Don't forget to visit my website at https://www.thebrewerofseville.com/ to catch up on old episodes and visit the BOS swag store.
Make sure you check out our friends at Wrecking Crew Brew Works on the web at https://www.wreckingcrewbrewworks.com/ and follow them on Facebook at https://www.facebook.com/Wreckingcrewbrewworks and Instagram at https://www.instagram.com/wreckingcrewbrewworks
You can also check out the Medina Brewery Passport on Facebook at https://www.facebook.com/MedinaCountyBreweryPassport/