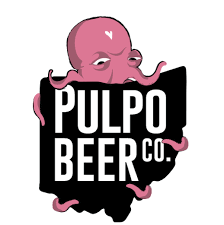 This week Bob and I talk about the upcoming Ashland Alefest which takes place on 6/18. We also discuss the Ohio breweries that brought home wins at this year World Beer Cup. Thirteen Ohio Breweries brought home 15 medals. We also discuss BrewDog owner James Watt giving up 5% of his stake in the company to employees.
In the second half of the show I traveled to Willoughby, Ohio to talk to Paola Valbuena and Jon Hill from Pulpo Beer Company. Pulpo is the first Latin owned brewery in the state of Ohio. They bring a taste of Latin America to all of their beers on tap. During the interview we talked about their expansion to Crocker Park where they will open a tap room that features 24 different beers ready to serve.
Don't forget to join the Pint Club by visiting my Patreon page at https://www.patreon.com/PintTalkingPintClub There are three tier levels and when you join the Pint Club you will get an opportunity to win a six pack of Ohio beer that is shipped by Rivalry Brews https://rivalrybrews.com/. You will also get a few coupon codes, and once every month you will be invited to a one-hour Q&A session on Facebook in which you can ask them anything you want about craft beer and the industry. In the very near future patrons will gain access to exclusive content that no one else is going to hear.
Make sure you visit Pulpo Beer Company on the web at https://www.pulpobeerco.com/ to see what they are brewing up. You can also follow them on Facebook at https://www.facebook.com/pulpobeerco and on Instagram at https://www.instagram.com/pulpobeerco/
Don't forget to visit my website at https://www.thebrewerofseville.com/ to catch up on old episodes and visit the BOS swag store.
Make sure you check out our friends at Wrecking Crew Brew Works on the web at https://www.wreckingcrewbrewworks.com/ and follow them on Facebook at https://www.facebook.com/Wreckingcrewbrewworks and Instagram at https://www.instagram.com/wreckingcrewbrewworks
You can also check out the Medina Brewery Passport on Facebook at https://www.facebook.com/MedinaCountyBreweryPassport/
Get ready for the Ashland Ale Fest on June 18th from 4pm to 8pm in Downtown Ashland Ohio. There will be somewhere in the neighborhood of 20 to 30 breweries for this event and there will only be 900 tickets available. Make sure that you don't miss out as ticket sales will end by June 8th. I will be giving away a pair of tickets the week before the show to someone that completes the following tasks.
Like and Follow me on Facebook
Like and Follow me on Instagram
Email feedback@thebrewerofseville.com or call the hotline at 33-271-0874 and tell us why you deserve to go to the second annual Ashland Alefest
Follow the link to the ticket site and get yourself primed up for a night of fun and excitement in Ashland, Ohio. Tickets: https://www.eventbrite.com/e/ashland-ale-fest-tickets-330653532617?aff=ebdssbdestsearch
Make sure you check out this week's sponsors Blue Cooler - Shop for a high quality cooler at half the price. Go to: https://www.avantlink.com/click.php?tt=cl&merchant_id=fdaa7e76-35bf-4f93-a2f2-0ba0fd3f2dcd&website_id=1b4fdbbe-e41e-40ba-a3b4-8cd9bcb808a9&url=https%3A%2F%2Fbluecoolers.com%2F
Also don't forget to visit Shirts on Tap at https://shirtsontap.com/ and use the code rq7szr For $10 off your first order.