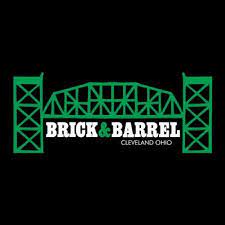 This week I travel to Brick and Barrel Brewing and sat down with the owner Karl Spiesman and the head brewer Cara Baker. We focused on the traditional aspects of craft beer, namely their love of English beer styles. We discussed the difference in the Cleveland craft beer scene from the time they opened in 2014 until now. While we were discussing this amazing industry of craft beer, we sampled some phenomenal beers as well. We started with a Helles that was to die for. Next, we sampled a hybrid that included the Helles, Riesling wine, and tart cherries that was absolutely amazing. The hits kept coming as we drank an ESB next that was spot on. We followed that up with their flagship West Coast IPA called Bitter Chief. Finally, we closed the interview with an delicious Imperial Porter. Every beer was fantastic which matched vibe of the brewery. This is a fantastic place to visit, and I can't wait to return to visit their patio this summer.
Beers we sampled:
Prauger Helles (Helles) - 4.9%
Rising Angel (Hybrid) - 6.2%
Bitter Chief (IPA) - 7.0%
Mason's Imperial Pretzel Porter - 8.6%
Make sure to follow Brick and Barrel Brewing on FB @brickandbarrel and IG at @brickandbarrelbrewing.
Please consider becoming a patron at our Patreon page. Head to https://patreon.com/pinttalkingpintclub and select one of the four available tiers. We have membership tiers at $3, $5, $10, and $20. Each tier gives you different levels of rewards including discount codes, stickers, ad free and early released episodes, admission into our private FB group, and for anyone in the $5 tier or higher I will buy you a beer on your birthday.
Don't forget to visit my website at https://www.thebrewerofseville.com/ to catch up on old episodes and visit the newly renovated BOS swag store.
If you'd like to subscribe for email updates please email me at thebrewerofseville@gmail.com and enter subscribe in the body of the email, or you can fill out the Contact form on the website and enter subscribe their as well.
Check out our sponsor Rivalry Brews at https://rivalrybrews.com/. They carry 32 Breweries from around Ohio, and they ship to 41 states. The only places they do not ship is AK, AL, DE, HI, KY, MA, OK, RI, and UT
Make sure you check out our friends at Wrecking Crew Brew Works on the web at https://www.wreckingcrewbrewworks.com/ and follow them on Facebook at https://www.facebook.com/Wreckingcrewbrewworks and Instagram at https://www.instagram.com/wreckingcrewbrewworks
Support the show by doing your Amazon shopping through our affiliate link. Just click the link here or on my website and do your shopping as you would normally. With every purchase you make using the link the podcast gets a little commission kick back. https://www.amazon.com?&linkCode=ll2&tag=thebrewerof0f-20&linkId=508b80c5f61935cee690c0e883386653&language=en_US&ref_=as_li_ss_tl
Check out our other sponsors: Join the American Homebrewers Association and get access to hundreds of award-winning recipes as well as countless informative articles. Follow this link and use the code PintTalking for $5 off your membership. https://www.homebrewersassociation.org/support-the-aha/?promo=the-Brewer-of-Seville.
Shirts on Tap at https://shirtsontap.com/ and use the code rq7szr For $10 off your first order.